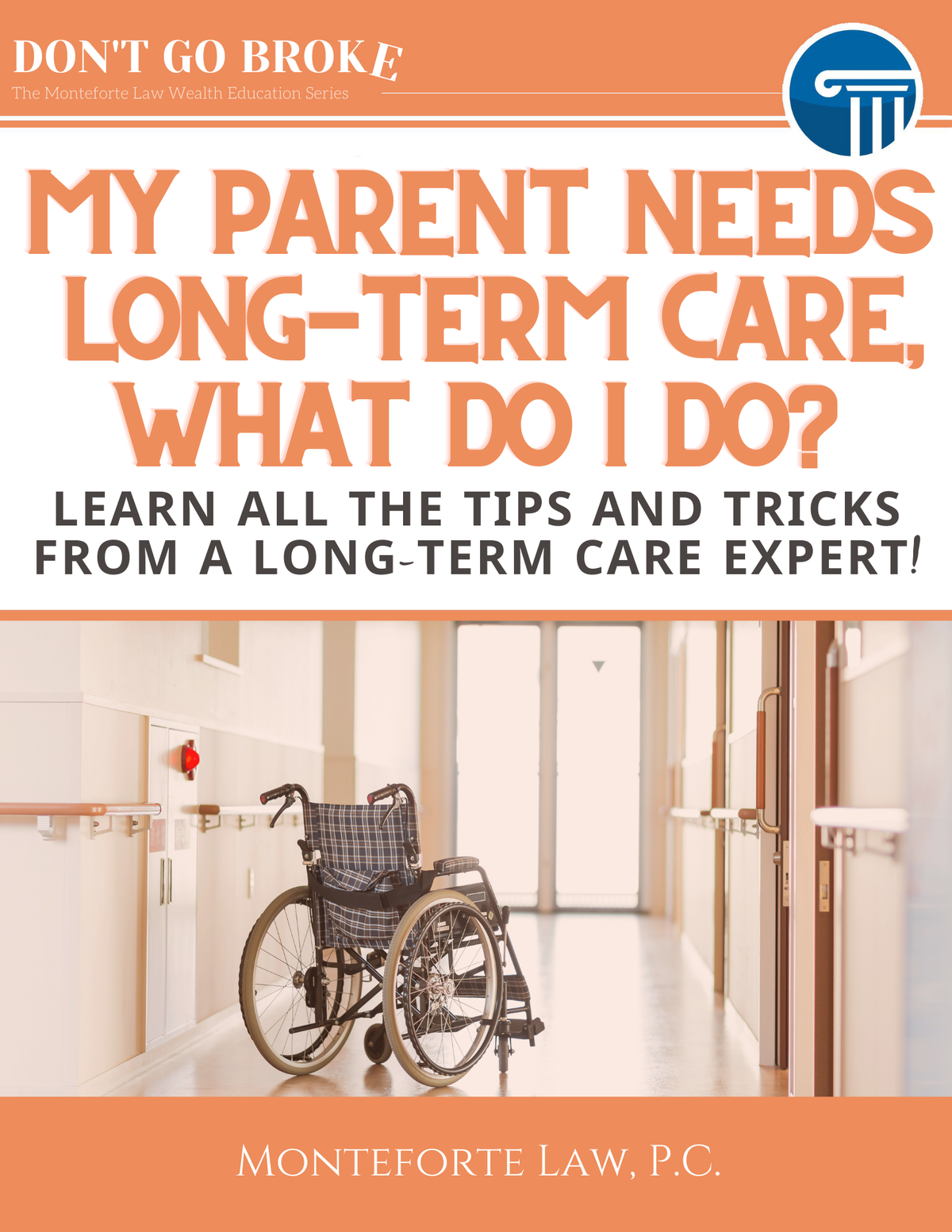 If you have a parent that needs long-term care, and you're confused about your options, you've come to the right place. We understand that caring for a loved one can be overwhelming and confusing, especially when it comes to navigating the long-term care process in Massachusetts. You may be wondering how to get your parent qualified for long-term care benefits in a nursing home, or even in-home care, while still protecting their assets and home. That's where we come in.
At Monteforte Law P.C., we specialize in helping people just like you. Our attorneys have extensive experience in navigating the long-term care process and are well-versed in the rules and regulations of MassHealth, the entity that governs long-term care benefits in Massachusetts on behalf of the Federal Medicaid program. We know how to handle the challenges and issues that MassHealth can make to your parent's application. Make sure your parents get the benefits they are entitled to!
One of the biggest misconceptions out there is that your parent won't qualify if they have money. This is false! We create estate plans that protect assets and can still obtain benefits for your mom or dad. Even if you think your parent has too much money to qualify, you're very likely wrong. With us on your side, we very often can still obtain benefits for them.
Don't let yourself or your family members become a casualty of a flawed and broken system! Our seniors have paid into the system their entire lives. Now it's time for the system to help support them. Do not go it alone and try to do the application yourself. If you complete the Medicaid application incorrectly, you can do irreparable harm to the person seeking benefits. Some mistakes cannot be fixed later, and opportunities for benefits, especially retroactive benefits, can be lost for good. If you make a mistake on your application, not only do you risk denial, but you also can risk liens on your home. The application is something that needs to be done right, the first time.
Do not let the facility do it for you – if you do, and there needs to be an appeal, the facility won't be there to do it because they aren't lawyers! Hire an experienced attorney to do the application for you, and give your loved ones the best chance at success.
We understand that the long-term care process can be confusing, and that's why we have created a guide that explains more about the long-term care benefits process and how our firm can help you. We are offering a free download of this guide to anyone who is interested in learning more about our services.
Take the first step towards protecting your loved one's assets and securing long-term care benefits. Contact us today to schedule a Strategic Planning Session with one of our attorneys. Let us take this burden from you, so you can focus on taking care of your loved one.
Don't hesitate to reach out, our team is ready to help you navigate the process and take the necessary steps to ensure that your parent receives the care they need.
Download this free report by filling out the form below! If you would like a hard copy of the report sent to you for FREE, please make sure to include the best address below.