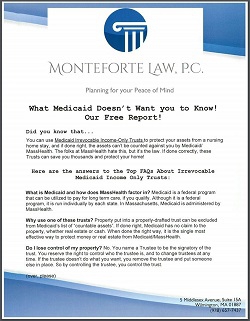 Did you know that you can use Medicaid Irrevocable Income-Only Trusts to protect your assets from a nursing home stay, and if done right, the assets can't be counted against you by Medicaid/MassHealth? The folks at MassHealth hate this, but it's the law.
If done correctly, these Trusts can save you thousands and protect your home!
Download this free flyer by filling out the form below to get educated!
Fill Out the Form Below to Request Our Free Offer